Happy Autumn Everyone...
Today as I sat thinking about what I wanted to say, I was reminded that there are many with whom are facing many trials and challenges this holiday season. Please know that you're thought about and prayed for... *Ü*!! There will be a brighter tomorrow... please never lose hope and always keep your blessings close to your ♥.
May you all have a very wonderful Autumn and a blessed "Thanksgiving" with memories to last a lifetime.
Not what we say about our blessings, but how we use them, is the true measure of our thanksgiving. ~W.T. Purkiser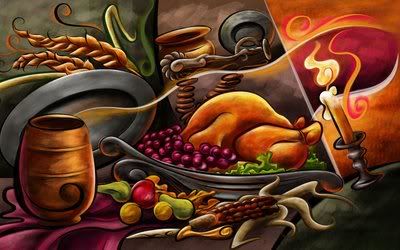 No matter where you are or who you may be spending Thanksgiving with... please take a moment to truly cherish your blessings.
Keep close to your heart those that you see on the streets... never knowing why or how they got there. Judging not... merely pray for them... asking that they too be blessed.
I want to leave you with a cute lil' quote... enjoy...
May your stuffing be tasty
May your turkey plump,
May your potatoes and gravy
Have nary a lump.
May your yams be delicious
And your pies take the prize,
And may your Thanksgiving dinner
Stay off your thighs!
~Author Unknown
...
**Lots of BIG Hugs**